The Disney Prince Book tag!
It's a while since I've done a tag on here, and when I came across this one I had to give it a go! Created by Allison at Allison's Well, I'm not tagging anyone, but if you want to do it make sure you credit back to the original post. Also, here's a plug for a quiz I made: Which Disney Prince is your match? (I got a bit addicted to these things over lockdown. I'd recommend not to get into making them unless you have a lot of time on your hands... Anyway, here are my answers:
Prince Florian
A character who stumbles into things

Will, from About a Boy stumbles into a friendship with a teenage kid that makes him finally start connecting with the world. Because no man is an island.
Prince Charming
- A character who looks past the exterior of those around him

Mr Hale from North and South treats every person he meets with respect and as an equal. Sometimes you want to shake him because he can be so wishy washy, but his basic decency can't be faulted.
Prince Phillip
- A character who fights for those he cares about

Neville Longbottom from Harry Potter is a true Gryffindor and will always stand up and fight for what he believes in. From house points to the future of the wizarding world, it's so great to see him grow up the way he does.
Prince Eric
- A character who fulfils the dreamy soft-boy trope
Jesse from The Mediator series is so perfect I'm guessing he's a dreamy softboy? A real gentleman, kind and laid back (except when he's getting jealous) smart, sensitive and gorgeous. Can't wait for that film adaptation!
The Beast
- A beastly character who is redeemed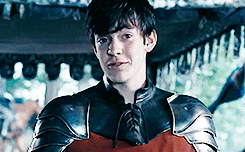 Edmund Pevensie from the Chronicles of Narnia is probably my favourite character in the series - after he's redeemed. I think Prince Caspian is the book where I love him most, and his character development is done really well.
Aladdin
- A character who assumes a false identity
Mr. Rochester from Jane Eyre dresses up as a gypsy fortune teller at one point to try and find out what Jane really thinks about him. It's completely insane, but I love it.
John Smith
- A character who loves to explore

John Kite from Caitlin Moran's How to Build a girl is a really lovely character. After coming from a poor background he's determined to live life to the full, and his first meeting with Joanna shows how he can make the ordinary extraordinary too.
Li Shang
- A character who is a tough, military leader
Llewellyn Fawr from Here be Dragons by Sharon Kay Penman was one of the last Welsh Princes and dreams of bringing the country together under Welsh rule. I love the character for his confidence and vision as well as his decency and fun.
Flynn Rider
- A character who is a scoundrel with a heart of gold
George from The Song of the Lioness quartet - which I've just bought a set of to finally re-read, now that a Tortall series is reputedly in the works. Can't remember much about the books, but I'm pretty certain that George was a loveable rogue.
Prince Naveen
- A character who undergoes a transformation
Boris Pellowski from The Princess Diaries has a makeover moment in, I think, the fifth or sixth book? The moral of the story is don't take your nerdy boyfriend for granted because your nice friend will snap him up just in time for him to get hot.
Kristoff
- A character who is a down to earth hero
Dawsey Adams from The Guernsey Literary and Potato Peel Pie society is so. lovely. I don't think I've had a bigger book crush since I was like, twelve. And that was before I saw Michael Huissman in the film.
Emperor Kuzco
- A character who is obnoxious but still loveable
The Dragon from Uprooted was so horrible at the beginning - and through most of it to be honest, I'm still not sure why I ended up liking him. He was hilariously bad to start with, but once he wasn't in the story so much I started to get bored. Things were just getting interesting too!