Top Ten Tuesday: Book quotes to make you hungry
Today's TTT (hosted at
That Artsy Reader Girl
) is books that make you hungry, and writing this post definitely made me want to go and get some dinner. Writing about food in a way that properly makes your mouth water is an art, and for me, the authors who do it best are C.S Lewis, J.K Rowling, Tolkien, Dickens and the
How Green was my Valley
guy. So here are some foodie quotes:
"O, blackberry tart, with berries as big as your thumb, purple and black, and thick with juice, and a crust to endear them that will go to cream in your mouth, and both passing down with such a taste that will make you close your eyes and wish you might live for ever in the wideness of that rich moment."
―
How Green Was My Valley
"There is good a cup of tea is when you are feeling low. Thin, and plenty of milk, and brown sugar in the crystal, in a big cup so that when your mouth is used to the heat you can drink instead of sipping. Every part of you inside you that seems to have gone to sleep comes lively again. A good friend of mine is a cup of tea, indeed."
Just as the frying-pan was nicely hissing, Peter and Mr Beaver came in with the fish which Mr Beaver had already opened with his knife and cleaned out in the open air. You can think how good the new-caught fish smelled while they were frying and how the hungry children longed for them to be done and how very much hungrier still they had become before Mr Beaver said, "Now we're nearly ready."
Susan drained the potatoes and then put them all back in the empty pot to dry on the side of the range while Lucy was helping Mrs Beaver to dish up the trout, so that in a very few minutes everyone was drawing up their stools (it was all three-legged stools in the Beavers' house except for Mrs Beaver's own special rocking-chair beside the fire) and preparing to enjoy themselves.
There was a jug of creamy milk for the children (Mr Beaver stuck to beer) and a great big lump of deep yellow butter in the middle of the table from which everyone took as much as he wanted to go with his potatoes, and all the children thought – and I agree with them – that there's nothing to beat good freshwater fish if you eat it when it has been alive half an hour ago and has come out of the pan half a minute ago.
And when they had finished the fish Mrs Beaver brought unexpectedly out of the oven a great and gloriously sticky marmalade roll, steaming hot, and at the same time moved the kettle on to the fire, so that when they had finished the marmalade roll the tea was made and ready to be poured out. And when each person had got his (or her) cup of tea, each person shoved back his (or her) stool so as to be able to lean against the wall and gave a long sigh of contentment.
- CS Lewis The Lion, the Witch and the Wardrobe
"It's lovely," said Lucy, and so it was; an omelette, piping hot, cold lamb and green peas, a strawberry ice, lemon squash to drink with the meal and a cup of chocolate to follow.
- CS Lewis, The Voyage of the Dawn Treader
"Some called for ale, and some for porter, and one for coffee, and all of them for cakes;so the Hobbit was kept busy for a while. A big jug of coffee had just been set in the hearth, the seed cakes were gone, and the dwarves were starting on a round of buttered scones, when there came - a loud knock."
- J.R.R Tolkien, The Hobbit
Mrs. Cratchit made the gravy (ready before­hand in a little saucepan) hissing hot; Master Peter mashed the potatoes with incredible vigour; Miss Belinda sweetened up the apple-sauce; Martha dusted the hot plates; Bob took Tiny Tim beside him in a tiny corner at the table; the two young Cratchits set chairs for everybody, not forgetting themselves, and mounting guard upon their posts, crammed spoons into their mouths, lest they should shriek for goose before their turn came to be helped. At last the dishes were set on, and grace was said. It was succeeded by a breathless pause, as Mrs. Cratchit, looking slowly all along the carving-knife, prepared to plunge it in the breast; but when she did, and when the long expected gush of stuffing issued forth, one murmur of delight arose all round the board, and even Tiny Tim, excited by the two young Cratchits, beat on the table with the handle of his knife, and feebly cried Hurrah !
– Charles Dickens, A Christmas Carol
"He toasted his bacon on a fork and caught the drops of fat on his bread; then he put the rasher on his thick slice of bread, and cut off chunks with a clasp-knife, poured his tea into his saucer, and was happy.
― D.H. Lawrence, Sons and Lovers
"What a marvellous smell!' answered Grandpa Joe, taking a long deep sniff. All the most wonderful smells in the world seemed to be mixed up in the air around them — the smell of roasting coffee and burnt sugar and melting chocolate and mint and violets and crushed hazelnuts and apple blossom and caramel and lemon peel."
- Roald Dahl, Charlie and the Chocolate Factory
Harry's mouth fell open. The dishes in front of him were now piled with food. He had never seen so many things he liked to eat on one table: roast beef, roast chicken, pork chops and lamb chops, sausages, bacon and steak, boiled potatoes, roast potatoes, chips, Yorkshire pudding, peas, carrots, gravy, ketchup, and, for some strange reason, peppermint humbugs.
- JK Rowling, Harry Potter and the Philosopher's Stone
"When you wake up in the morning, Pooh," said Piglet at last, "what's the first thing you say to yourself?"
"What's for breakfast?" said Pooh. "What do you say, Piglet?"
"I say, I wonder what's going to happen exciting today?" said Piglet.
Pooh nodded thoughtfully. "It's the same thing," he said."
- A.A Milne, Winnie the Pooh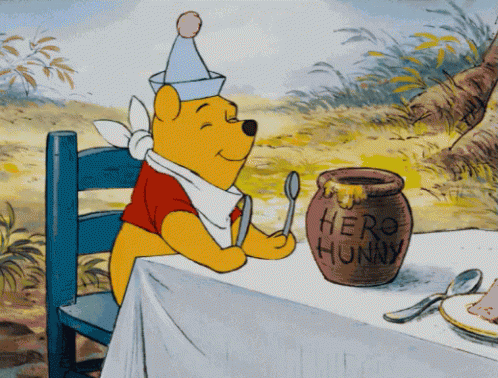 What books make you hungry?