Medieval Queens Book Tag!


Jess, at Jessticulates, tagged me in her new original tag, Medieval Queens, so thanks! (Fun fact: three of these women are actually Love Island winner Dani Dyer's great-great etc. grandmothers. Weird.) Anyway, I had a lot of fun doing Jess's Tudor Queens tag and I'm definitely in the zone for this at the moment, as I'm (finally) nearly finished with the last Thomas Cromwell book, The Mirror and the Light. (They're good, and I like the characters, but it's not exactly gripping stuff. He just goes to work, every day. And his work is so dull.) Anyway, I'm tagging: AJ@Read all the things!, Livia@Rose Petals and Faerie Dust, Lydia@Lydia Schoch and Laura@Boats Against the Current if you fancy it!
Empress Matilda (1102-1167)
After her father, Henry I, died naming her his heir, Matilda's cousin, Stephen, subsequently took the throne for himself. Matilda never stopped fighting for what was rightfully hers. Though she would never be named Queen of England in her own right, she was able to convince Stephen to name her son, the future Henry II, his successor over his own children.
Choose a book with a protagonist who stands their ground.
Jean Paget from Neville Shute's A Town Like Alice is one of my all time favourite heroines. An English girl working in Malaysia when the Japanese invade, Jean and a group of women and children are marched from place to place because there are no women's camps. Jean is compassionate, practical, tough and great in a crisis. You'd definitely want her in your corner.
Eleanor of Aquitaine (1122-1204)
Before she married Henry II and became Queen of England in 1152, Eleanor was Queen of France as the wife of Louis VII. She sought an annulment from her marriage to Louis and he eventually agreed because 15 years of marriage had produced no sons, only for Eleanor to go on to have eight children with Henry—five of whom were sons. Ouch!
Choose a book or series in which the heroine has more than one romantic relationship.
Scarlett O' Hara is not everyone's cup of tea (and I'd hate her in real life) but as a character, I love her. Three times married, and never for love, one huge crush that spanned years of her life, and one huge love and loss - all by the time she was twenty-nine. If you can say one thing about her, it's that's she's not afraid to go after what she wants.
Eleanor of Castile (1241-1290)
A keen patron of literature and a successful businesswoman in her own right, Eleanor was Edward I's first wife. He was so heartbroken when she died that he erected the Eleanor Crosses, 12 stone crosses marking the places where her body rested over night on its journey from Lincolnshire, where she died, to her burial place in London. Three of the crosses still survive today.
Choose a bittersweet book.
The story of a group of kids (late teens/early 20's?) in Dublin who decide to start a soul band. The Commitments is a lot of fun, and there's a hopefulness to it, but there's not a fairytale ending. It's bittersweet in a realistic and not-too-depressing kind of way.
Isabella of France (1295-1358)
Often known as the 'She-Wolf of France', Isabella was Edward II's wife. Unfortunately for Edward he wasn't particularly good at being king, and Isabella soon grew tired of his (possibly homosexual) relationship with his favourite, Hugh Despenser. After she began an affair with English nobleman Roger Mortimer while on a diplomatic mission to France, the pair returned to England with an army and she deposed Edward and acted as regent until their son, the future Edward III, came of age.
Choose a book where the romance overtook the plot.
Not in a bad way! The Strike series is great but I'm really not a crime person. It's all about the characters for me, and especially the will-they-won't-they between Strike and Robin.
Philippa of Hainault (1310/15-1369)
Queen of England as the wife of Edward III, Philippa was beloved by the English people for her compassion and kindness. The Queen's College, Oxford, founded in 1341, is named in her honour, so
Choose a book set at a university.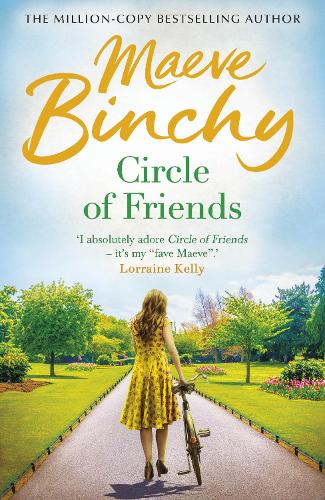 Maeve Binchy is my guilty pleasure - although not really because she's a really good writer. Circle of Friends is my favourite of her books so far. It's about three girls in their first year at University in 1950's Dublin, their friendships and romances and family stuff.
Joan of Navarre (1368-1437)
Joan was Henry IV's second wife. Six years after his death, Joan was accused of attempting to poison her stepson, Henry V, through witchcraft and was imprisoned for four years until he ordered her release, just six weeks before he suddenly died.
Choose a book about witches.
I love the Chrestomanci books and although Witch Week's not my favourite, it's got an exciting concept and such a strong opening. In a school for orphans in a world similar to our own - except magic is a thing and being a witch is still punishable by death - a piece of paper is left on the teacher's desk: someone in this class is a witch. But who wrote the note and who is in danger?