Based on.... The Strictly Come Dancing Annual? Strictly's Best Dances to Date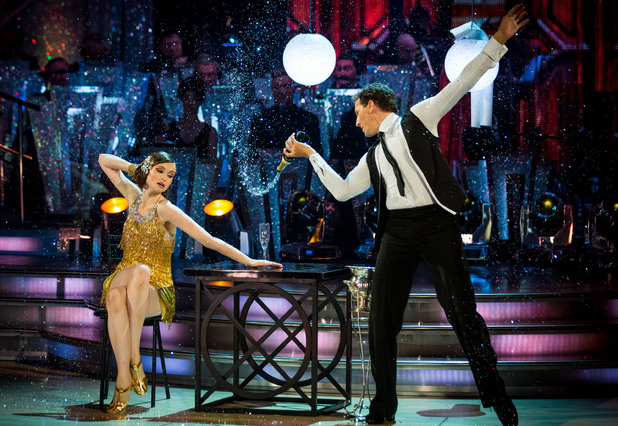 You got me. This isn't really a book themed post. But as
Strictly
season (aka, the best time of the year) has finally come back upon us, I thought I might compile a list of my favourite ever
Strictly
dances. Back during series 6 or 7 my Mum bought me a
Strictly
album for Christmas - and it was a good little present, full of run-downs of the best and worst scoring dances, quizzes, details on the dresses - if they still put them out there I'd recommend to any super-fan. And now it's time for my own list. Having watched from Series 1 I've got a fair few favourites but I've tried to whittle it down to twelve, since we're on series twelve now! They're not necessarily the most polished of the dances, or the highest scorers, but rather the ones that I've remembered down the years. Enjoy!
12. Patrick and Anya's Quickstep
So maybe I won't remember this one a few years down the line, but it was one of my favourites of 2013. I love Halloween week, and this was well-acted, well-choreographed and fun. What happened to Anya anyway?
11. Jill and Darren's Jive
Not going to lie, I was supporting Denise Lewis in series two. Jill kind of irritated me, but this dance is the one everyone remembers and she deserved the win after this - if only for dealing so well with her dress getting caught.
10. Mark and Karen's Argentine Tango
(Skip to 2:40 to go straight to the dance.) Series 4 was the year the Argentine Tango was introduced to Strictly and I still think Mark Ramprakash is the best celebrity to have danced it. I love Karen's choreography and Mark really sells it - great atmosphere and great dancing.
9. The only two Rumbas I ever liked...
Lets be honest, the Rumba is a rubbish dance. I hate it with a passion, but if there's enough chemistry between the dancers you can ignore the fact that the dance itself is basically just posing. Vincent and Rachel Stevens had chemistry in spades (as evidenced by the way the cameras always cut to her fiancee looking devastated in the audience) and Brendan and Sophie-Ellis-Bextor's dance was tender and lovely. The judges thought it needed to be more 'raunchy' *shudder* but I agree with Brendan - it's more important that there's a connection.
8. Chris and Ola's Charleston
We all know that this dance was what won the thing for Chris Hollins, but I don't begrudge him it - we all love an underdog. And who didn't love this dance? This was the first year the Charleston was included and Chris and Ola gave us one to remember. But does it bother anyone else that Tess still pronounces her name wrong? It's been nine years Tess!
7. Vienese Waltzes by Brendan
Maybe it's the music, maybe it's the pretty dresses, or just Brendan's choreography (because lets agree he owns everyone at that). Couldn't decide between these two so included both.
6. Abbey and Aljaz's Waltz
For a girl with no previous dance training Abbey was something special. She dances it so well, but what makes this dance is how well she acts it. Beautiful music, beautiful dancing.
5. Mark and Karen's Salsa
This dance is of course all the more memorable for the wardrobe malfunction, but somehow that makes the dance itself so much better when they get a second chance at it. There's something about this that just makes you smile - and I love Bruce dancing with the tech woman!
4. Kelly and Brendan's American Smooth
(Go from 1:25 for dance.) The big question is, if Kelly hadn't had to drop out could she have won the thing? At the time I was team Alesha, but after her brief stint as a judge I'm inclined to say Kelly should have won. This dance caused controversy at the time as Brendan added an illegal third lift, yet Bruno still gave a 10. Len was furious, but I agree with Bruno.
3. Scott and Natalie's Jive
Now usually I'm not one for props, but the whole set up of this dance was amazing. Great song (especially in light of Scott's character on Eastenders) great storytelling and great dancing. One of my absolute favourites - and Natalie's choreography is some of the best.
2. Sophie and Brendan's Charleston
Brendan king-of-choreography is back and this dance is the whole package. Poor Sophie could only go down-hill from here and I (and I'm sure plenty of other people) were gutted not to see a repeat of this in the final. This was Sophie's dance - she looked great, danced great and they were so in sync. Love it.
1. Louisa and Vincent's Jive
So maybe this isn't the best or the most iconic Strictly dance, but for me this is what it's all about. There are no extras here, just dancing - fast, with some complex steps, and the best part is that Louisa Lytton looks likes she's loving every minute. Still one of the youngest ever contestants (I think she was seventeen?) she and Vincent - during his first year on the show - made a great team.